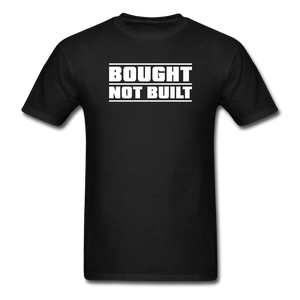 Annoyed by those loudmouths that like to flaunt that they "built their car from the ground up with their bare hands?"

Now there's a not so subtle way of letting people know that you didn't have time for any of that nonsense!

Let them know that your car was BOUGHT NOT BUILT, today!

Design by Emily Brown
-----------------------------------
This tee is as comfy as it is stylish!
Brand: Gildan
Fabric weight: 6 oz (Heavyweight)
Material: 100% preshrunk cotton 
Double-needle stitching, seamless collar
Imported product, printed & processed in the USA
normal fit
| | A | B | C |
| --- | --- | --- | --- |
| S | 27.99 in | 17.99 in | 6.02 in |
| M | 28.98 in | 20.00 in | 6.50 in |
| L | 30.00 in | 21.97 in | 7.01 in |
| XL | 30.98 in | 23.98 in | 0.75 in |
| 2XL | 31.97 in | 25.98 in | 7.72 in |
| 3XL | 32.99 in | 27.99 in | 7.87 in |
| 4XL | 33.98 in | 30.00 in | 8.07 in |
| 5XL | 35.00 in | 31.97 in | 8.27 in |