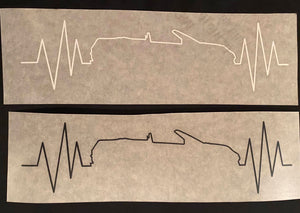 The BEST of all MR2s in sticker form! 
Made in the USA of high quality 3M Vinyl!
Measures 2" tall by 8" wide.
Note: Ships from the USA FOR FREE!

INSTALLATION NOTES! Sticker must look like the car is going from left to right when installing. Make sure to clean the surface thoroughly first. Then, take off the SHINY side and then apply the sticker to the surface and then peel off the masking tape, making sure not to lift the graphic off the car.